Fijiro Wields a spear that can attack enemies 1 square diagonal or 2 squares straight on (left, right, up, down). If 2 enemies are in a row Fijiro can attack them both with his spear.
Appearance
Edit
Fijiro is a rare mercenary who wears shiny armor and wields a spear. He has blue / purple eyes and blonde hair. Fijiro will occasionally joins the player on quests though is often AI controlled.
Fijiro's spear can reach up to 2 squares away and 1 square diagonal. His spear attack is capable of hitting multiple targets.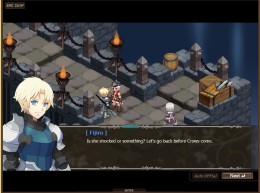 He has following skills:
Heart Attack
Shield
Protect
Called Strike
Please note, those are skills when you first meet him. They might be changed when you see him in battle other time.
Mercenary board
Edit
Just like with Sister-M and Sympagis, there's a small chance you can get him from the Special Mercenary Board to aid you in battle.